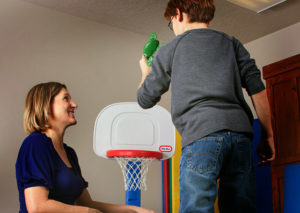 Idaho Pediatric Therapy Clinic (IPTC) was started in one room in September of 2008 in partnership with Idaho Spine and Sports Physical Therapy. Over the last 10 years we have grown from one physical therapist to a staff of 11, including physical, occupational, and speech/language therapists with an excellent support staff.
As Albert Einstein once said,
"Play is the highest form of research."
IPTC is passionate about using play to encourage functional exploration of a child's environment to become more independent in home, school, and community settings. Our goal is to help our families contribute and support the growth of their child by maximizing their "research" potential.
IPTC sees a future that includes expanding our access to care to younger and older patients and their families, improving our space to greater support patient and therapist needs, and increasing opportunities for patients to participate in group and social activities in partnership with community partners.